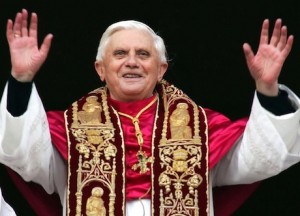 I have to admit I was horrified when Pope Benedict announced his resignation this Spring. Not due to any religious misgivings but because my wide and I had a four night stay in Rome booked for early April. I suffered visions of pilgrim – choked Piazzas and gridlocked streets, with the faithful flocking to celebrate 'Habemus Papa'.
I need not have worried. All was calm by the Tuesday after Easter when our plane touched down at Fiumicino. However, the Sistine Chapel did bring me face to face with behaviour management . Even the Vatican cannot escape the age old issue of dealing with low level disruption. As tourists from all over the world crowded into this tiny space last Thursday afternoon, in a kind of reverse re-enactment of the Tower of Babel, it fell to one poor unfortunate to protect its sacred purpose. In other words, he had to stop the assorted Germans, Brits, Japanese, Americans and even the occasional Italian from talking too loudly.
Every few seconds his raking "Shhhhh!" spread across the room, to little effect and every couple of minutes I heard his musical cry of "Silenzio!"
I couldn't see him of course, the place was too full. All I could see was the ceiling… but then of course, that's why we were there. Anyway, the effect of "Silenzio!" wore off pretty quickly. You put a few hundred people in a small room under the world's most beautiful ceiling and what happens? They want to talk!
What about? Well, they might be making telling points about Michelangelo's choice of colour, or they might be saying "Gee Hank, that must be a hundred years old!" or, as in my case "Oh, my neck is killing me!"  Whatever it is, they do want to talk.
As he progressed from "Silenzio!" to a staccato hand clap, it struck me that this poor under-assistant to the deputy cardinal's gopher, or whatever he was, had a lot in common with the average supply teacher, faced by a group that had no interest in him, no clear idea about exactly how much talking was too much, no fear of any consequences and thus no intention of complying with his despairing appeals.