From Sun-bed to Staffroom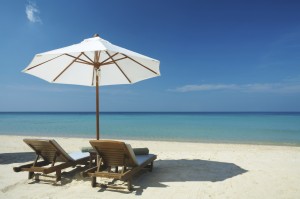 Due to extraordinarily bad planning and a two hour delay, my flight from Turkey landed in  Gatwick at 10.15 pm on Monday night.  I was due in at 9am sharp the next morning and the school, like my home, was in Yorkshire.
Deep joy.
And please, don't get me started on the subject of how long it takes to escape from Gatwick….
Luckily, my wife heroically drove us home, so I nabbed an hour and half's kip in the car.  
However, the fun was only just starting. Getting home at 4.15am to find our cat had diarrhoea and the smoke alarm on the landing had a flat battery was….. not good.  Breathing in stale feline back-end fumes and suffering an every-sixty-seconds earth-shattering  "BIP!!" is not my preferred way of nodding off.
So, after ten minutes of sullen, bleary eyed activity, with moggy-mess managed and alarm-battery replaced, I snatched another two hours.
At 9am, with a  fresh tan and a vacant  expression, I walked into school. The transition from sun-bed to staffroom has never seemed quite such a handbrake turn.
And the reason for my visit to this particular school?
To lead a session on resilience.
Yes, you really couldn't make it up…. and I only wish I was.
However as my mind began to process the holiday I'd had and the school I was in, a very clear message started to grab me.
You see, I'd just been to the best hotel in the world. Not the poshest mind, and certainly not the most expensive. But along with my family , on our 11 nights all-inclusive stay in an 80 room,  4* hotel,  I had never in my life been made to feel so welcome.
On our arrival there was food available even though it  was 12.30 am. There were small gifts in our room. The following day the cleaners made 'bed art' with our towels. In the heat of the afternoon, the staff brought ice creams and freezing towels to our sun-beds. They joined in our card games, played table tennis with us and generally went about their jobs with obvious pride and enjoyment. One day I broke my sunglasses, a weighty problem as they are prescription sunglasses and without them reading outdoors would be difficult. No problem, they were taken and returned to me, fixed, within the hour. We attended a special welcome table on our first night and leaving table on our last and we received a small gift on our last evening to remind us of our stay. Hell, they even called me out to end the Karaoke on my last night by singing 'My Way'. (Maybe they needed to clear the area.) Many of the guests were repeat customers, some for the third, fourth and in one case the sixth time.
So why am I detailing all this in a 'behaviour blog'?
Because, as we start a new year, it made me wonder: what can each of us do to show pupils that we have noticed them, that they are special, valued and safe in our care? And what can we do for each other, while we face another torrent of preparation, marking and admin, to make sure that everyone feels noticed, special and safe in our schools?
My modest hotel made me feel so welcome and achieved my total respect, not by attending to my every whim in a servile manner, but by making me feel noticed and having the confidence to engage with me as a person.   Somehow the staff at this hotel have been made to feel special themselves, allowed for example to put down the drinks  tray and get stuck into our card game, encouraged to be themselves whilst getting the job done. What a great lesson for schools.
If we make it our mission to notice, value and engage positively with pupils and colleagues, the journey from sun-bed to staff room may not be so traumatic after all.