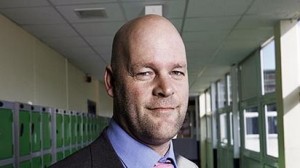 It has been fun watching my former colleague Jonny Mitchell become something of a national hero on the TV in recent weeks.  I worked with Jonny when he was an assistant head teacher at Airedale High School several years ago and I was a local authority officer. Jonny always had a twinkle in his eye and was clearly learning very quickly as part of a leadership team that moved Airedale leaps and bounds in a short period. Attendance rose from way below 90% to considerably above. A smart new uniform, a terrific team of peer mentors, a committed attendance team, a head teacher who listened to pupils read every day and a wonderful staff all contributed. It is marvellous now to see Jonny take wing and do it his way.
It has also helped me to explain my consultancy to my mother. "Is that what you're always talking about?" she asked me the other day. I had to agree. I could think of no better example of the inclusive, humane and yet demanding approach that those of us in the Behaviour and Attendance strand of the National Strategies set about propagating from 2003 until the end of the contract in 2009. We never had a monopoly on inclusion or compassion in the 'Strategies'  but I have to admit a sense of bereavement when 'B&A' disappeared.
Or did it? The headlines in TES and elsewhere show that SEAL for example has refused to die; hardly surprising since it's pretty obvious that a lack of social and emotional skills is the biggest barrier between many pupils and learning. It has always seemed equally obvious to me that teachers have to teach behaviour – in fact they can't avoid doing it. Pupils watch and learn, so we may as well take charge of what they are learning.
I was set on this path by a wonderful man, now very sadly passed away called Andrew Reid. Andrew was an HMI, a Methodist local preacher, a former primary head and true gentleman in every sense of the word. Finding out, many years ago that I was planning to train in teaching, and by way of giving advice , Andrew said three words that summed up what my career should be about:
"Mr Baker cares."
The pupils at Thornhill know it too. Mr Mitchell cares. He cares a great deal and the clear message to each pupil and his staff is that they should care too. I remember the day that the new uniform was worn for the first time at Airedale. The pupils walked about a yard taller. They weren't articulating it but their every move shouted "we're worth it".
Jonny believes that every last one of them is worth it …..and that is what will educate Yorkshire.